Americans are plastic addicts. I'm not just talking packaging. We depend on plastic payments, aka credit and debit cards.
That financial transaction method has made its way into the COVID-19 economic impact payment (EIP) distribution.
This week, the Internal Revenue Service began sending debit cards loaded with coronavirus payment amounts to approximately 4 million Americans.
As created under the Coronavirus Aid, Relief and Economic Security (CARES) Act, the COVID-19 payment amounts are up to $1,200 for individuals or $2,400 for married couples. Parents also receive $500 for each qualifying child who is younger than 17 at of the end of 2020. The maximum payments phase out when individuals have adjusted gross income (AGI) of more than $75,000 or $150,000 for married jointly filing couples.
Newest addition to federal plastic program: The debit cards, called Economic Impact Payment (EIP) Cards, join direct deposit and paper checks as ways to get the COVID-19 stimulus money to even more Americans.
Consumer groups generally welcomed the debit card delivery as a positive way to the pandemic payments to eligible individuals who don't have bank accounts.
The EIP Cards bear the Visa logo and are issued by the U.S. Treasury's financial agent, MetaBank, and are on their way to people who haven't provided the IRS with their banking information. This includes individuals who don't have bank accounts, as well as taxpayers who don't typically receive a tax refund via direct deposit.
They are going to eligible individuals whose tax returns were processed at the IRS service centers in Austin, Texas, or Andover, Massachusetts.
Just like regular debit cards: MetaBank, which is identified on the back of the card (as seen in the image to the right), has been handling noncash transactions for the agency since 2016 as part of the U.S. Debit Card program.
This program provides prepaid debit card services to federal agencies for electronic delivery of non-benefit payments. Like Uncle Sam's other debit offerings, these EIP Visa cards can be used like commercial debit cards.
Once activated — instructions are included in the card mailing — they will be accepted at any story that takes Visa cards. You can use your preload coronavirus relief card to make purchases, get cash from in-network ATMs or transfer funds to personal bank accounts without any fees, according the Treasury Department said.
As for accessing cash, you can find participating ATMs at this online Economic Impact Payment Card ATM Locator.
Legit, so don't toss: If you don't have a bank account and qualify for a COVID-19 economic impact payment, check your mail carefully. You don't want to throw away this real Visa card thinking it's just another reproduction sent by a card issuer trying to get you to switch or apply for its credit card or worse, a scam.
It's legit. Even the federal Consumer Financial Protection Bureau (CFPB) is getting in on the announcement via social media to let folks who get the cards that they're OK to use.consumerfinance.gov✔@CFPB
If you receive a prepaid VISA card from Meta Bank in the mail, this is not a scam. Treasury is sending some people their Economic Impact Payment on a prepaid debit card. Learn more: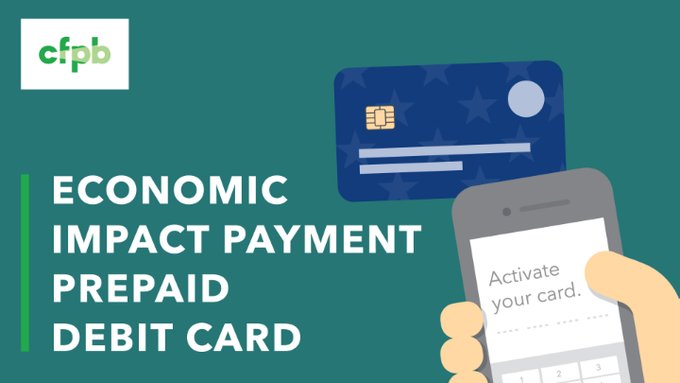 25Twitter Ads info and privacy41 people are talking about this